Insurance Approved Alarms
For Cars - Vans - Motorhomes
We can supply and install all types of car alarm systems, we are approved installers for the above manufacturers 
Cars

Vans
Motorhomes
AUTOWATCH 695 CAN BUS UNIVERSAL ALARM SYSTEM
Cat 2 > 1 upgrade
Insurance Approved Car Alarms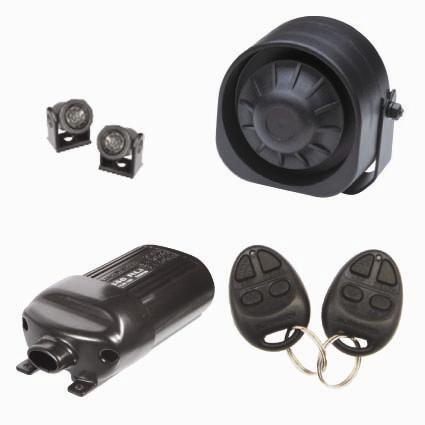 Cat 2 > 1 Ultrasonic Alarm Insurance Approved Car Alarm
System with Wireless Sensors.
An all new alarm from Autowatch that represents the next generation in the Thatcham insurance aproved catagory  2 > 1 alarm standard.
These alarms are standard factory fit in South Africa by Volkswagon and Ford.
They are also fitted as standard by Peugeot, Renault and Mitsubishi in Israel.
The Autowatch 695 RLI/T Cat 1
Is THE Number One Choice For motorhome alarms
What is Can Bus ?
CAN Bus is a data communications protocol where data is used to control and monitor the functionality of control systems on modern vehicles. CAN which stands for "Controller Area Network" is now being used by many vehicle manufacturers to increase reliability, reduce costs of components, reduce power consumption, reduce
weight ,therefore offering better fuel consumption and improved vehicle diagnostics.
Why Install Can Bus ?
With vehicles becoming more difficult for thieves to steal, they are now breaking in to steal accessories, such as navigation systems, mobile phones and car-kits, radar detectors, stereos and any other items that they may find valuable. 
Most people assume that because they can lock their car with a remote, they automatically have an alarm system. 
This is not the case. 
From 1997, an EU law was passed to make the fitting of an immobiliser, mandatory.
However this was not applicable for alarm systems.
More than 75% of vehicles sold, do not come with an alarm as standard. So, the onus of securing the vehicle is the owners responsibility.
The Autowatch 695 CANBUS alarm system is insurance approved. Most insurance companies now require a Thatcham approved alarm and may offer you a discount for having an approved system fitted.
The Autowatch 695CAN alarm is a Thatcham approved CAT 2-1upgrade alarm system, designed to be used on full CAN Bus, semi CAN Bus or conventional wiring systems
The 695CAN alarm can be fitted to any compatible new vehicle that requires an alarm. This system is designed to be easily operated from the vehicles original remote
controls without the use of an additional remote control.
However, if your vehicle has only one remote control supplied as standard, adding an additional Autowatch remote control will prove more cost effective than buying an original remote control.

SECURITY FEATURES

Self-arming Immobiliser.
Battery back-up siren .
Auto Re-arm Alarm .
Auto -arming Alarm. Lock/Unlock with ignition 
Pager output neg out (Selectable) 
Negative Output when armed (Selectable)
Ignition Anti-Hotwire Indicator / Park-light Flashing
Door Open audible warning
Anti-tamper Security Housing 
Remote Panic Alarm Facility
Anti-key Theft Facility
Output for GSP/GSM Tracking system
CONVENIENCE FEATURES

Central locking output (Neg Neg)
Boot release
Window Closure facility (Selectable)
Silent Arm / Silent Disarm (Selectable)
False-alarm Nuisance Prevention
Alarm trigger Diagnostics
Rapid-test mode for installer
Courtesy light illumination
The 695 RLi alarm has 2 Zone Wireless Sensor Capability 
This means you could have one exterior circuit and one interior circuit.
you could have a wireless sensor in your garage, if someone enters while the alarm is set
the Autowatch 695rli insurance approved car alarm will sound even if your vehicle is parked inside or outside the garage, giving you double protection.
It is also used to protect the living or habitation areas of motorhomes.
you can find out more about our motorhome alarms here
You can find more information about our Motorhome alarms here
or go back to our Security page
we also supply and install Tracking Systems at your home or work place 
near Maidstone  or in the Kent area
Installs can be provided in the following areas
Maidstone, Sittingbourne, Faversham, Ashford, Medway, Gillingham,
Chatham, Gravesend, Tonbridge, Westmalling, Isle of Sheppy.